Lord's Cricket Ground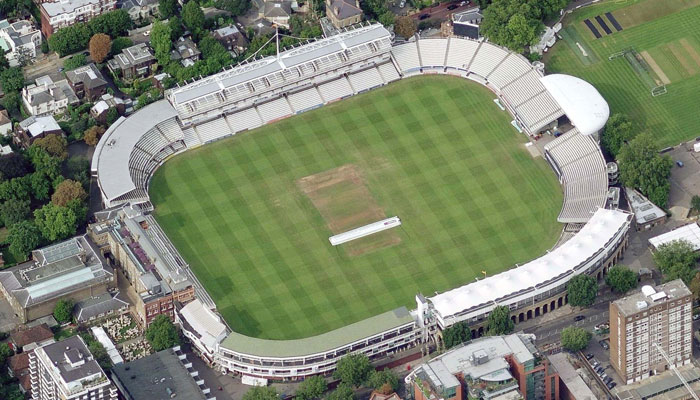 Lord's Cricket Ground is a cricket stadium in St John's Wood, London. Named after its creator Thomas Lord, it is owned by Marylebone Cricket Club and is the home of Middlesex County Cricket Club, the England and Wales Cricket Board, the European Cricket Council and, in anticipation of August 2005, the International Cricket Council. Lord's is generally referred to as the ""home of cricket"" and is home to the world's oldest sporting museum. Lord's today is not viable its inventive site, being the third of three grounds that Lord established between 1787 and 1814. His first ground, now referred to as Lord's Old Ground, was where Dorset open place now stands. His second ground, Lord's Middle Ground, was used from 1811 to 1813 earlier than being forsaken to make way for the construction through its outfield of the Regent's Canal. The current Lord's ground is concerning 250 yards (230 m) north-west of the location of the Middle Ground. A major redevelopment has been planned for Lord's which would enhance faculty by another 10,000 over and above adding apartments and an ice rink.
History
The most fundamental known match played on the recent Lord's Cricket Ground was Marylebone Cricket Club v Hertfordshire on 22 June 1814. The oldest cricket contest at Lord's is the annual Eton v Harrow contest, which was first played on the Old Ground in 1805, and on the current Lord's Cricket Ground in July 1818.
Notable Events
Lord's hosts Test matches, one-day Internationals, various Middlesex home matches, MCC matches and (opening with a contest between Middlesex and Surrey in July 2004) several of Middlesex's home Twenty20 games. Lord's characteristically hosts two Tests every summer – counting the first Test of the summer – advantage two One Day Internationals. Lord's also plays crowd to the finals of the National Village Cricket Competition, the MCC Universities Challenge competition and The Friends visionary cup. Furthermore, two matches in the Twenty20 Cup, but not the competition's finals day, are played at Lord's every one season. The oldest enduring contest at Lord's is the annual Eton against Harrow match which began in 1805 and celebrated its centenary in 2005. The match is always ferociously contested. Since 2000 it former 55 overs per side, but previous to that it was declaration and before that it was two innings per side over two days. Eton has the steadiness of wins, but the winner in the centenary year was Harrow.
WORLD CUP 2015 SCHEDULE
29 March 2015

AUS
V

NZL
WORLD CUP 2015 STANDINGS
CRICKET STARS