New Wembley Stadium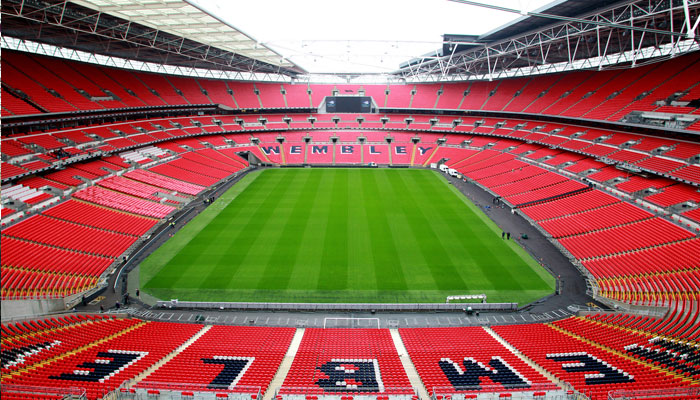 Wembley Stadium (often referred to simply as Wembley, pronounced /?w?mbli/, or sometimes as the New Wembley) is a football stadium located in Wembley Park, in the Borough of Brent, London, England. It opened in 2007 and was built on the site of the previous 1923 Wembley Stadium. The earlier Wembley stadium, originally called the Empire Stadium, was often referred to as "The Twin Towers" and was one of the world's most famous football stadiums until its demolition in 2003.
It is a UEFA category four stadium. The 90,000-capacity venue (105,000 combined seating and standing) is the second largest stadium in Europe, and serves as England's national stadium. It is the home venue of the England national football team, and hosts the latter stages of the top level domestic club cup competition, the FA Cup. It is owned by English football's governing body,

The Wembley Stadium exterior

Wembley was designed by architects Foster + Partners and Populous (known as HOK Sport at the time of the design phase and construction) and with engineers Mott MacDonald, built by Australian company Brookfield Multiplex and funded by Sport England, WNSL (Wembley National Stadium Limited), the Football Association, the Department for Culture Media and Sport and the London Development Agency. It is one of the most expensive stadiums ever built at a cost of £798 million (After New Meadowlands Stadium) and has the largest roof-covered seating capacity in the world. Nathaniel Lichfield and Partners was appointed to assist Wembley National Stadium Limited in preparing the scheme for a new stadium and to obtain planning and listed building permission for the development.

Inside Wembley Stadium

The all-seater stadium is based around a bowl design with a capacity of 90,000, protected from the elements by a sliding roof that does not completely enclose it. It can also be adapted as an athletic stadium by erecting a temporary platform over the lowest tier of seating. The stadium's signature feature is a circular section lattice arch of 7 m (23 ft) internal diameter with a 315 m (1,033 ft) span, erected some 22° off true, and rising to 133 m (436 ft). It supports all the weight of the north roof and 60% of the weight of the retractable roof on the southern side. The archway is the world's longest unsupported roof structure. Instead of the 39 steps climbed, in the original stadium, to enter the Royal Box and collect a trophy, there are now 107.
A "platform system" has been designed to convert the stadium for athletics use, but its use would decrease the stadium's capacity to approximately 60,000. No athletics events (track and field) have taken place at the stadium, and none are scheduled. The conversion for athletics use was a condition of part of the lottery funding the stadium received, but to convert it would take weeks of work and cost millions of pounds.
Related Stadiums
QUICK LINKS
Sports Rules